To use your planner effectively you need to approach it in three steps.
Picking the right planner
Initial setup of your planner
Using your planner everyday
It will take some effort on your behalf but once you've picked out a planner, set it up and added as much information in the beginning, maintaining it will take very little of your time provided you keep it up to date.
So If you need to add or remove something from your planner, make theos changes immediately.
I should also point out a planner is a tool and not a magic pill to organise your life. This is why it's not necessary to buy an expensive planner and all of its accessories, keep it simple.
In fact you're more than likely to slow your productivity, if you start going crazy with stickers, washi tape and drawing in your layouts. Don't get me wrong, there's definitely benefits to doing that, which is called decorative planning.
But you came here to learn how to use your planner effectively and to achieve that you need to keep things simple at first.
So let's start with the first step and get you on your way.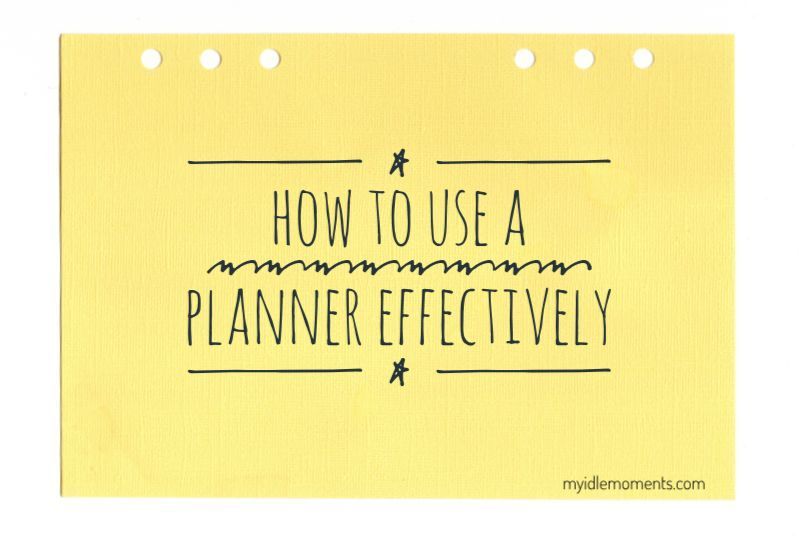 Choosing the right type of planner and layout
The right type of planner for you will depend on how you intend to use it. Do you need a high level view of all your appointments or something more detailed?
I personally recommend an A5 size planner, with rings or discs for the binding, to plan effectively.
The A5 size is a good balance between portability and enough room for all handwriting sizes. The ring or disc binding allows you to move your pages, perfect for organizing and adding different planner inserts as your needs change.
An excellent all rounder!
The standard set of pages that come with most paper based planners are as follows.
Weekly Layout – A 7 day view either on one page or spread out over two pages. Usually in a horizontal layout but vertical layouts are starting to become popular.
Monthly Layout – A high level view of the current month on two pages. Naturally not as much room to write appointments as a weekly layout, but still very functional for recurring appointments.
Year at a glance – Depending on the format, you're likely to have a yearly calendar on one page or spread out over 2 – 4 pages with the 2nd layout being preferred so you can enter important dates.
To-do's – The classic to-do list, perfect to prioritise your daily tasks.
Note paper – An essential insert for jotting down quick notes and ideas when on the go.
The initial setup of your planner
A necessary evil before you can start using your planner effectively. But don't overthink it. Sure it can seem like a lot of work, but once the bulk of the information is in your planner, it is easy to keep your planner updated.
Plus, you're only going to be adding information for future appointments, events, to-do's, etc.. so it's not that bad.
Start with what is important to you and what are you planning for?
This is the information that you need to do a brain dump directly into your calendar, starting with the most important information first.
An example is:
School – Assignments, exams and school time table
Work – Projects, meetings and tasks
Personal & Family – Important dates, to-do's, regular appointments, bill due dates, doctor appointments
If you're a visual person like myself, I like to use a notepad and list out all the things important in my life and then
fill out a month at a time, until I have everything written down before moving on to the next month.
I know what you're thinking. " Do I really need to write everything down? "
Well, you could only use your planner for work. But… then you're only organising one aspect of your life or worst you have information in multiple locations. That's why it's important to use your planner for everything so you only have one source to take information and dates from, plus no one else is going to see what's inside your planner.
Now that you have the core of your information written down. You could take it one step further and track your fitness, mood, social events, sleep, meals, garbage day, side gig and the list goes on.
7 Tips to using your planner effectively
Using only one planner
You would be surprised what you can actually fit in a paper based planner. Keep it simple and use one planner for everything.
Utilising the monthly tabs to organise your pages makes it really easy to find your information quickly. It's one of the reasons I recommend a disc or ring bound planner. You can archive pages if you need more room or add additional sections with tabs for work or other activities if you're finding there's not enough room in the sections provided.
Consistency is key
This is probably going to be the hardest thing to do if you are new to planning.
Make it a habit to use your planner everyday. Just like you pick up your mobile phone first thing in the morning you should be opening up your planner and looking at what's going on for that day.
When reading your emails or messages, open your planner ready to jot down any new appointments or to-dos. Next time you're on a phone call, open your note paper section.
If you find that you struggle to write consistently, add an alarm for a 5 min nightly planning session to plan for the next day.
Set time aside to plan
Blocking time In your day to plan is really important. I find that setting time at the end of the day to plan the next day is a really efficient way to go about it, plus it's really quick to do.
Set about 10 minutes aside after dinner or before going to bed. Start reflecting on the day you just had, cross off any items that you may have forgotten to do during the day and also carry over any tasks or appointments that you didn't finish.
This will help prioritise the following day. It's also ok if things get moved around or pushed back at least you know what you need to prioritize and do first thing the next day.
Sunday evening is a good time to plan for the rest of the week starting with what needs to be done on Monday and everything from there will become apparent as to what is the top priority for the rest of the week.
You may need to change some events for the following week or month ahead but that is all part of being an efficient planner.
Add extra functionality as needed
As your needs change, you should consider adding additional inserts or even removing certain pages if they don't work for you. It's one of the benefits of having a disc or ring binder with the ability to customise your planner so it works for you.
Start with the core inserts and add additional inserts only when needed to minimise losing focus.
Habit trackers, health , fitness, budgeting and meal planning are some of the more popular inserts most people add to their planner. Check our store to find an insert in your planner size.
Stick to a system
At first you may not have a system in place for how to use your planner but as time goes on you will start to do things a certain way. It's important that you stick to whatever system you decide to go with and not keep on changing.
It could be something simple like prioritising your to-do's with a number from 1 to 10.
Alternately you can use a box in front of each to-do and shading in a portion of it to show you're halfway done.
If you're planning for the family or for different things such as work and personal use of a colour code system to group and easterly visualize different activities in your calendar can help to keep things organised.
Carry your planner everywhere
Just like you carry your phone or wallet everywhere with you, the same needs to happen with your planner so you can form good habits and be consistent with your organisation.
Finding the right size planner helps achieve this, if your binder is too big then you'll be less likely to carry it with you. If it's too small it may be very portable but become hard for you to write everything you need.
Most ring binders such as a filofax or Kiki K have room for credit cards and license. If you find yourself forgetting your planner, move your most used cards to your planner to minimise the things you need to carry.
Change what's not working
Don't be afraid to make changes so the planner works for you rather than you trying to shoehorn into a particular insert or system.
I suggest before making any changes try for at least 30 days. Only make one change it a time and go from there.
If you're struggling with the overwhelm of having to update your planner. Maybe an option would be to not go into so much detail in the beginning and then progress from there by using more inserts.
An example would be if you're using a weekly layout, maybe switching to a monthly layout, even though it has the whole month, it's a high level view and might be easier to keep updated, since you're limited with space, and are limited about what you can track.
Even though your planner may come with a core set of inserts, It doesn't mean you have to use them, remove the unused inserts and see how you go and slowly introduce them back as you begin to feel comfortable.
The same thing also applies to the different types of layouts. If we look at the weekly insert, you can get them as a week on one page, week on two pages. They also come as horizontal or vertical layouts and each gives you a different amount of room to write your information down.
Conclusion
You may have noticed the theme I've been harping on about in this article, And that is to use a planner effectively, you need to keep things simple.
If you're new to using a planner, it's important that you find a planner that is the right size and has the layouts that you are initially interested in.
Then adding all your important information a month at a time, so you don't miss out on anything.
Probably the most important thing is to actually use your planner everyday without hesitation.
If you do need to make any changes. Keep at it for a month before you make any adjustments to your layouts or system in general.