This guide on how to choose a planner will guide you through the 7 things you should consider when picking out your first planner.
I should point out that a planner is a tool and it won't magically organise your life for you. You need to use it everyday without hesitation, so you form a habit.
This is why picking a planner that works for you is important, so take your time in selecting one.
We will be covering the below topics:
Planner size
Where are you using your planner
What are you planner or tracking
Planner layout
Handwriting size
Binding options
Cost
Keep on reading to start your journey with paper based planning.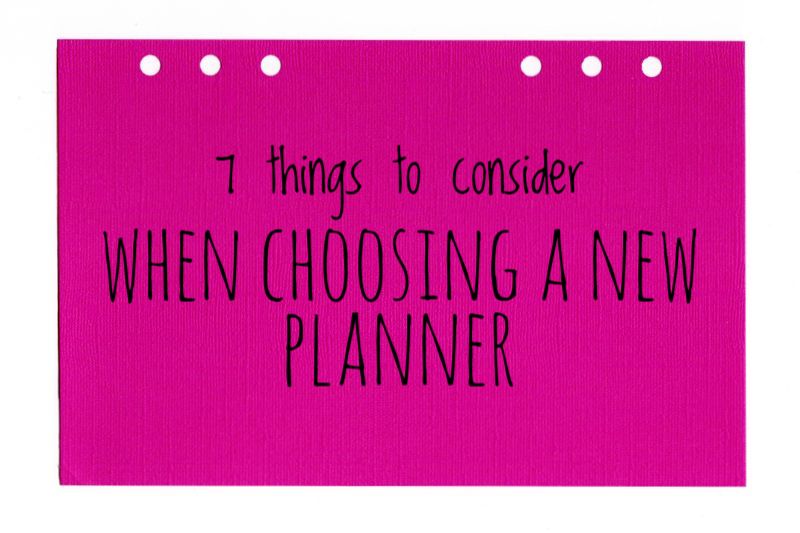 Which planner size is right for you?
From my experience this is a combination of personal preference and functionality. Even though you may prefer to have your planner in a particular size. It needs to be practical so you won't give up after the first few days. To work this out let's look at some of the features of the different sizes.
So what page size should you choose then?
Planner page sizes range from A4 / US Letter all the way down to what is known as micro size.
It can be a major plus to have so many sizes to choose from, it allows you to find the exact size planner that suits your needs. Be it for your handbag, coat pocket or office desk.
The negative being there is way too much choice and quite frankly drives you bonkers if you are just getting into paper based planning.
To make things easier for you to follow I'm only going to talk about the more popular planner sizes that have been around for awhile. I've written an article that goes in more depth in all the planner sizes and brands, you should read that after this article.
I should firstly point out that depending on the brand, some have their own dimensions that can differ slightly in size even if they call it the same page size.
Some will be a little bit smaller or bigger, but it's minimal and for the sake of not confusing you the four sizes we're going to look at are popular page sizes amongst ring bound planners, discbound planners and book bound planners.
Those sizes are A4/ Letter, A5 / half page, Personal and Pocket.
The reason why I'm only concentrating on these for someone that's new to paper based planning, is almost all the brands will have sizes that are close to one of these four sizes.
A4 / US Letter size
A4 ( 210 mm x 297 mm / 8.3in x 11.7in) and US letter size ( 21.5cm x 27.9 x 8.5in x 11in ) are the biggest planners you're going to come across and follow standard paper sizes. They are very big in size and can hold a lot if you have a lot of information to write down, these will be perfect for you.
You can literally have any type of layout that you can think of in it. The only downside is they are on the bigger bulkier side so a backpack would be ideal to carry them around or if you're going from meeting to meeting in an office or if you're a teacher from staff room to classroom, then it won't be a problem.
A5
A5 ( 148mm x 210mm / 5.8in x 8.3in ) or half page ( 215mm x 139mm / 8.5in x 5.5in ) as it's sometimes known is half of an A4 page size. This is one of the more popular sizes as it strikes a balance between portability and usability.
The planner slips into most handbags and the page size is big enough to accommodate a lot of different layouts while still being able to use them efficiently even if you have larger handwriting. Printing and cutting your own printables works well for this size planner as it just requires one cut down the centre to get the right sizing.
Personal
Personal size planner ( 95mm x 171mm / 3.75in x 6.75in ) starts to tip the scale towards portability and best for someone that is on the go.
The smaller page can start to limit your handwriting size and will work well for people that need a second planner for when on the go or a planner for a specific use case. It certainly can be used as your main planner if you need to keep your bag light.
Pocket
Pocket size ( 120mm x 81mm / 3.5in x 5.5in) We are starting to get to the point of portability over functionality.
I'm sure there are lots of people who use this size as their everyday carry. But you really need to have smaller handwriting to get full use. If you use a layout or printable in a larger format it may not work well at this size or at least how much information you can add will be limited.
Where are you going to use your planner?
One of the things you should be considering is how you are actually going to be using your planner. Will you be carrying it around or will you only be using it when you're sitting down at a table in the office or at home.
If you're the type of person that wants to carry their planner around and add to it as you go about your day, then a planner that would fit in a coat pocket or a handbag will suit that need, sizes between pocket and A5 will work for you.
This is an efficient way of using a planner, as you won't forget to put things into it and it's easy to refer to it on the go when booking appointments.
Just remember that the smaller the planner size, certain layouts and handwriting size may be limited for space and if you have a planner that holds a whole year worth of pages it will become bulky.
If you're the type of person that wants to use a planner in the office or it will essentially be kept at home and you will be adding information to it when you set time aside, then a planner that is larger will be a better fit for you as the bulkness won't be an issue. Sizes from A5 and above will work perfectly for you.
The extra space in a lager planner allows you to add more information and use layouts to their fullest.
What are you planning or tracking?
This is the aspect of planning that more than likely will change over time.
Planning is great to keep you organised, but it is also an excellent way to help you to remember, reflect on what has been and to help better yourself for the future.
So if you find planning has started to become a chore, stop and assess why it's happening, change what you're doing by simplifying.
An example would be, you started to plan or track daily activities, but after some time you work out it requires too much of your time. Maybe weekly or monthly planning might work better for you, don't just give up, try something else before you completely dismiss it.
Also just because your planner comes with a certain type of inserts, you certainly don't have to use them all.
I personally have moved back and forth between weekly and monthly inserts depending on the time of year. When I'm studying I need weekly inserts to keep track of my classes and assignments. For family planning monthly inserts work well for that high level view of the month ahead.
A planner can also be used to keep track of your habits, to do's and even a project, writing these things down will help keep you on target.
Remember it's ok to change your planner setup if it's not working. Keep it up for 30 days straight before you make a change. Start using your planner for one to two things and build up your habit of using a paper planner from there.
Choosing a planner layout
Ok, choosing a layout is not so much of a big deal if you have a ring or disc planner since the pages can be replaced with another type of layout.
But, you still should pick a layout that works for your type of planning so you don't have to buy more inserts straight away. Most planners will come with a weekly layout, monthly layout, to do list and some note paper as a minimum.
If your planner is a book bound your pages are not movable so you are limited with what comes printed. Unless you are using a blank book like a Leuchtturm 1917 as a bullet journal, in which case it's completely up to you as to how you lay things out.
Here are some popular layouts to get you started.
Daily layout – Super focused on one day with the layout taking up the whole page for one day.
Weekly layout – A standard insert for planning a week at a time with the layout spanning over two pages.
Monthly layout – Another standard insert that comes with most planners and is used for planning a month at a time with the layout spanning over two pages per month.
Yearly layout – High level view of the whole year, depending on the size of planner the layout can be over 2 – 4 pages some layouts even fold out.
Vertical layout – Perfect if you have small writing or you only use 1 – 2 words to describe your appointments / tasks.
Horizontal layout – If you need more room to write a full sentence or have bigger handwriting, available in both weekly and monthly layouts
Tryout some of these planner inserts when your planner needs refilling.
How big is your handwriting?
I find that handwriting plays a big part in the size of planner and also the type of layout you are going to use.
I'm not saying that you can't use any size planner, in fact my husband has huge handwriting, but prefers smaller size planners for their portability.
It simply means that If your handwriting is on the larger side, anything smaller than an A5 and depending on the layout may be too impractical for you to use efficiently.
Ultimately this will depend on the layout you are using with your planner.
A horizontal Weekly layout on 2 Pages will allow you to write full sentences or the appointment and some notes. Which is perfectly fine on an A5 and above, as soon as you start using a smaller plnner, even though it's the same layout, just smaller. You're naturally limited by how much you can write and therefore you'll have to adapt to the page size.
I know you're talking to your screen right now and saying "Well duh, that's obvious".
Yes, but sometimes we make a decision based only on aesthetics or binding and regret it.
I'll be the first to admit, I've done that and later regretted it. Mostly because of the amount of space that is available.
Sure I could get away with the amount that I'm writing in the boxes provided, but it becomes a struggle since I'm accommodating for the size of the planner and have to make compromises, rather than the planner fitting my needs.
Something to keep in mind when choosing your next planner, handwriting size matters!
Binding options
Binding options is something you need to also take into consideration as it plays a major part in how you use your planner and how much room it takes up
Planners that use rings or discs allow you to move your pages within your planner to organise them further.
Planners that are coil bound or book bound you are limited to the pages and layouts, as they are set and you can't move them. So a little bit more planning needs to go into the way you want to work with your planner.
Book bound
A book bound planner is certainly a low-cost way to get into planning but you are limited by the pages it comes with and the layouts that are part of that planner.
It's not to say that it is a bad option, in fact these types of planners have been around for a very long time and are widely available at all different price points.
You can get these planners in all sorts of layouts and combinations. In recent years the bullet journal mythology of planning has encouraged a new style of purposeful planning, using a blank book to write and draw your layouts as you please.
Once you use up the planner you need to buy a new one. A plus is you can write all the way to the middle of the book, without the need to remove the pages, as you would with a disc or ring binder.
Ring
Ring binder planners were made popular by filofax with their distinctive 6 rings to hold the pages in place. They allow the use of dividers to break up the planner into different sections, and move your pages around to suit the way that you want to use the planner.
It also means that once you ran out of pages you could simply archive those pages and replace them with refills, so you could keep on using the binder and you don't have to buy a whole new planner to replace it.
A downside Is that the rings can make a planner bulky And you can't change them out for a smaller set of rings because they are attached to the binder.
Disc
Discbound planners have also been around for a very long time with companies such as Atoma, Arc system by Staples and now the happy planner have made this to be a popular low cost entree into planning.   
Just like the ring bound planners you can move your pages around as you please, organising your planner with dividers and different printables to get the layout you want is also very easy.
The disks are also bulky but they can be swapped out to small ones, which limits how many pages you can fit in the planner.
Even though you can add extra pages to your happy planner They are printed in such a way where dates and calendars are printed on the back of the dividers so reusing the next year makes it difficult unless you cover up the dividers.
Coil
Metal coil bound planners made by Erin Condon and Carpe Demi are another binding option. Even though you could un-coil the binding to add or change the pages, It's not recommended and like a bound book once you finish the planner you have to buy a whole new one.
Much like the bookbound planner you are locked into the pages that come with the planne.
What is your budget for a planner?
You have found your perfect planner, but does it fit in your budget?
The thing I love about planning on paper is that you can achieve the same results with a simple exercise book that costs $1, as you would with a name brand handmade leather planner that costs $100.
Of course… one you need to set-up yourself and may not look fancy, but will do the job just fine.
While the other is a done for you solution that looks professional and has more options than you may need.
But sometimes we buy things to make ourselves feel good and paper based planning is no different. It's very easy to purchase a lower to middle range planner, customise it with printables, stickers and washi tape and end up spending hundreds of dollars.
So with prices for a planner ranging from a few dollars all the way up to over $100 for some binders, I'll let you make the final decision. But remember a $20 – $50 planner will do the same thing as a $100 planner 🙂
Conclusion
As you can see there's a lot to think about when you start researching for your next planner. If you already use one then buying another one will be easy as you more than likely have a specific need for it.
If this is your first paper-based planner then the 7 topics I talked about today will help and guide you in making a decision. Remember they are all equally as important as one another and you may have to make a compromise so you end up getting the right planner.