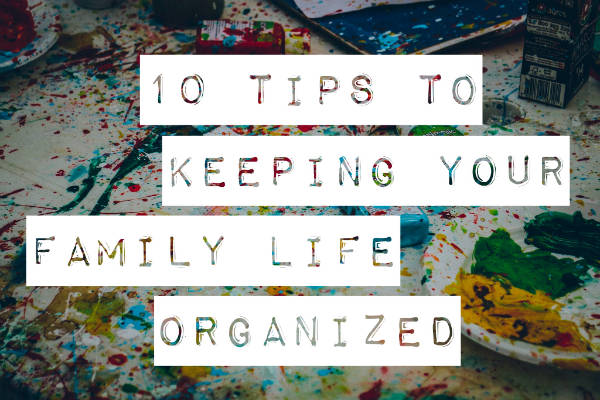 Keeping your family life organized is hard work. It is not easy and there are no shortcuts.  It takes hard work to be successful and requires the assistance of the whole family to work together to achieve the end goal.
We all lead busy lives and here are my ten tips that you can use to keep your family life organized.
Some of these tips will be easy to achieve and can be done in a few minutes.  Others take a little bit more planning but can be completed over the course of a weekend.
1. Keep your family life organized with a shared Calendar
Almost everyone has a smartphone these days.  Many people often don't use them to their full potential but one very easy and quick tip is to share your calendar with your spouse or other members of your family.
It's easy to set up and share a calendar in iCal, Microsoft Outlook or Google Calendar with your family members.  Then as appointments are added by one person, everyone else will see that appointment after their calendar syncs when connected to the Internet.
Sharing a calendar is great for keeping track of doctor appointments, school pickup and drop-off, sporting events, birthdays, anniversaries and parties.  It helps to prevent double bookings because one parent is aware that the other parent has already committed to something else.  I know it certainly has prevented a few mishaps in my family!
  2. Bulk cooking
Planning your meals a week or even a month ahead is a massive time saver.  Using a slow cooker is one of the my favorite ways to cook large amounts of food.  This is the slow cooker I use – it's super simple to use and holds 7 quarts (7 litres).
I love the simplicity of turning it on in the morning and forgetting about it til dinner.  Then when it's dinner time, it's ready to eat! It is also easy to clean.
I usually prefer to do my bulk cooking on the weekend and use the slow cooker during the week for that evening's dinner.  On the weekends, I have more time to split up the cooked meals into multiple portions and then label them for freezing. From our 7 litre slow cooker, we will roughly get 16 – 20 dinner size adult portions or roughly 30 meals for the kids.
  3. Freezing meals
I hate having to cook a full dinner at the end of a long day of work.  That's why I love having cooked meals in the freezer.  It is great to always have some on hand for those times that when life gets in the way or when you simply forgot to do the shopping.
An average sized freezer has enough space to hold lunches and dinners for a family of four for the week.   Just remember to label the containers or you will end up playing Guess the Dish!
Freezer meals are not just for last minute backups. With a bit of planning, you can always have prepared food on hand. I often freeze complete meals, including sides such as veggies.
Another way to help stay organized is to bulk freeze partially prepared items like pizza dough.
If you have the space, investing in a stand alone freezer is a fantastic way to stay organized and save money. We choose a standing freezer rather than a chest freezer because it took up less floor space and we use the individual draws to keep the food organized in the freezer.
4. Decluttering regularly
When combined with regular weekly and monthly cleaning, decluttering your home every 3 to 6 months will keep it clean, tidy and clutter free.
Begin by dedicating one whole day to the cause every change of seasons and make sure to put your declutter days in your family calendar for the whole family to help.
There are many popular methods for decluttering and ultimately, you need to find what works best for you.  For my family, we find it's best to declutter one room at a time, trying to complete a room in one go if possible. Otherwise you might never get it completed as you accumulate more things.
Start with the less used items first. If you haven't used something for a year, it might be time to get rid of it.  Put the sentimental value aside and make a decision on whether you will really use it.
Just make sure that you don't fall into the trap of moving things from one room to another, but rather deal with it straight away!
5. Sharing the chores
One person can't do all the housework and have a successful household.  Sharing the chores is the only way to achieve an organized family life.  Plus it is a great way for the kids to learn about responsibilities and taking care of their belongings.
A simple picture chart for the younger kids helps them to know what is required of them. We also like to make a game out of it and quite often will play Spring Cleaning, no matter what season it is!
6. Morning and night time routines
Mornings and especially night time can be extremely stressful when you have kids.
It helps to start with the elementary and basic things to reduce the stress in the whole family.  Routines are also a great way to teach good life skills and independence.
A simple morning routine before school or daycare includes:
Combing hair,
Brushing teeth,
Washing face,
Getting dressed,
Packing school bag
A simple night time routine includes
Combing hair,
Brushing teeth,
Washing face,
Putting dirty clothes in the hamper,
Reading together.
Again, use pictures with words for the younger kids to help them learn.
7. Keeping a central list
Keeping a main or central list of to do's and shopping list is a must in order to avoid confusion.
A low tech solution is to use a whiteboard or pinboard located in the busy part of the home, such as the kitchen. Use a separate area for to do's, the shopping list and chores. When you complete a task, cross it off.  Before heading to the grocery store, simply take a photo of the shopping list so it's with you when you do the weekly shopping.
For those who are after a high tech solution, there are many apps to help such as Trello, Onenote, Google Keep and Evernote.  Just remember after you create the list to share it with the family.  It can also help to add reminders and due dates.
8. Containers and storage boxes
Finding a storage solution that works for you and your family can be tricky, but here are my favorite tricks.
Store your herbs and spices in a container about the height of the herb containers.  Then, when you need to find the spice or herb you are looking for, just pull out the whole container.
Sort the kids toys into different storage boxes and let the kids play with a different box of toys every few days.  This not only allows you to keep the toys organized, but also rotates the toys so they are playing with different ones.
Use space saver bags to put away the blankets and winter clothes at the end of winter. Not only does the space saver bag take up less space, but it also helps to keep the blankets and clothes clean.
9. Label everything
We use containers and large tubs to organize our things around the house. It is extremely important to label everything so it's convenient to find and not get forgotten about.
When you start preparing frozen food, it starts to all look the same.  I like to label frozen meal containers with scotch tape and a permanent marker. The tape is easy to remove and does not leave a sticky residue when it is time to clean and reuse the container.
For items that are stored in a cool dry place, I recommend using these Avery labels.  They can be used with a inkjet printer and they can also be used with a permanent marker.
I like using these because they are long lasting. The free Avery label software makes it super easy to create large amounts of labels and one box of labels will last a very long time.
10. Everything has its place and a place for everything
Everything in the home needs to have a place otherwise it's just random stuff jammed in wherever it fits and it will be quickly forgotten about.
By putting everything away straight after using it, clutter will be minimized and it sets a good example for the kids.
I find using picture cards and a reward chart help to teach kids the correct spot to place their things. It works extremely well to associate areas for toys, a place for school bags and shoes.
When moving into a new home, you have the advantage of a blank canvas and assigning areas for all the different objects in your house.
If you aren't moving anytime soon, it's not the end of the world, but it will take a bit more work.  The first step would be to declutter and clean one room at a time.  Once you have decluttered and cleaned the room, start by only placing the objects that you will use frequently in that room.  Consider storing smaller items in labeled containers or tubs.
Conclusion
To be most successful, everyone in the family needs to help out to keep your family life organized.  Otherwise, the more time consuming tasks will never get finished.  Once you find what works for you and your family, you'll find more peace at home and feel more organized.
Good luck.