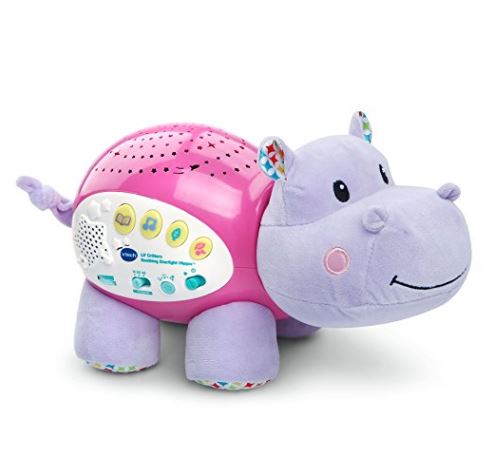 This is my interaction with the VTech Baby Lil' Critters Soothing Starlight Hippo.
For most parents putting the kids to bed can be an extremely stressful time. It's the end of the day and everyone is tired.
It seems that saying the words "please go get ready for bed" sets off a trigger in kids' brain to turn off logical thinking.  This then causes them to draw out the process as long as they can, avoiding going to bed at all costs.
It's even worse when daylight savings kicks in. "But it's not dark outside" they say! AHHHH!!!!!!!!!
I used to struggle with getting my younger daughter to sleep, so her pediatrician sent us to a sleep clinic.
If you've experienced going to a sleep clinic to help with poor sleep, it can be hit and miss. I know our four night experience was just torture.
Having a complete stranger tell me how I should be putting my kids to sleep is strange. But it's what the pediatrician said was best for us.
Don't get me wrong. There were some wins. But there was also a lot of crying, both from me and my daughter, and this was definitely a low point.
Even after going to the sleep clinic, I continued to struggle to put my daughter to bed and reverted to doing it the same way I always did – by waiting for her to fall asleep on my lap and then gently putting her in her bed and praying that she wouldn't wake up.
Nap times were similar. In hindsight, I did it to myself by giving in to her and not getting her used to falling asleep in her own bed.
Enter the hippo…
When the grandparents gave my daughter the VTech Baby Lil' Creatures Soothing Starlight Hippo for her birthday, I didn't think much of it.
It was another stuffed animal that makes sounds and has flashing lights – Big whoop!
We had it for weeks before we took it out of the box. The kids played with many times during the day.  I guess they forgot to turn it off.
One night, when my daughter woke up and started to cry after only just putting her in bed, the Hippo turned on by itself and started to play a lullaby at the same time projecting stars on the ceiling that changed colors slowly.
By the time I made it to her room, she had fallen asleep on her own. Needless to say, I was in complete shock and wondered why I hadn't tried this before!!!
I didn't realize it was voice activated and turns on when it hears crying or sounds.  That's just brilliant!
The next night you bet I used the magical hippo!
I changed her nighttime routine to include the Hippo:
1. Get her dressed for bed
2. Read a story
3. Kiss her goodnight
4. Turn on the magic Hippo
Some nights, I still sit in the room with her but we are getting her to fall asleep in her own bed, which she never did before.
It used to take me hours to get her to sleep, sometimes tag teaming with my husband.  Now, it only takes 5 -10 minutes tops.
I'm not sure if VTech have received an award for this toy. But they definitely should.
It's very well thought out.
You can choose between nursery rhymes, nature sounds, lullabies and some peaceful music.
As you would expect it has a volume control dial and projects stars onto the ceiling in different colors.  It's voice activated as I mentioned earlier. Plus it only uses 2x AA batteries.
A nice touch is that you can also turn off the projected lights and use the Hippo only for the calming sounds and there is a switch to determine how long the lights and music play for before turning off on their own.  I like the 30 minute setting!
This is what I do after my daughter has drifted off to sleep. Perfect!
Thank you VTech – you guys ROCK and your little Hippo has definitely saved my sanity at bedtime.