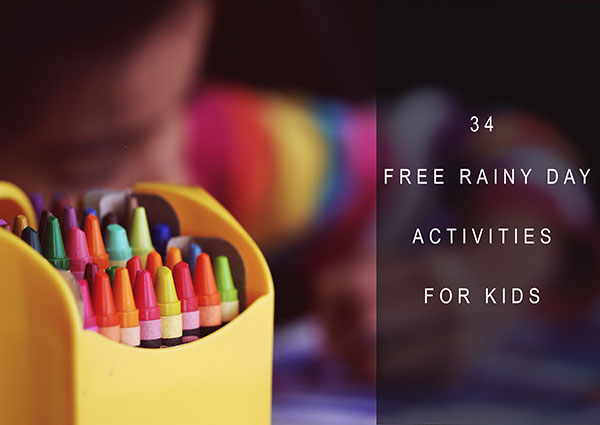 "Mom, I'm bored"
"Mum, I don't have anything to do"
Sound familiar?  It's been raining a lot the past few weeks AND it's school holidays / vacation…it's surprising that we haven't lost our minds yet.  I know it is super easy to turn on the TV or let the kids use the iPad, but I much rather prefer they use their imagination instead.  So here's a list of 34 Free Rainy Day Activities for the Kids.
[thrive_leads id='93']
1. Card Games
Even with a standard deck of cards, there are many games to play for kids of all ages – Memory, Go Fish, Snap. My daughter received the Bicycle kids card games last Christmas which comes with 6 different card games.
2. Make your own Cards
Don't have a deck of cards? Make some! Cut a few pieces of paper into 8 equal sizes and have the kids decorate them: Numbers, shapes, colours.
3. Writing Practice
As a mom to a kindergartener, I'm trying to get my daughter to understand the importance of neat handwriting, so the more she practices, the better it will be.
4. Best Reading voice competition
Make a game out of how many pages or books you read each day, or how many days in a row you read for 20 minutes per day.  Read aloud to each other and make a game out of who does the best voice!
5. Spring Cleaning
This is my favourite game for the kids!!!  And it doesn't even need to be spring.  To be fair, my daughter claims to love playing "Spring Cleaning" when in fact, she likes to watch me clean and tell me what to do!
6. Cooking Fun
Pick a recipe together and get messy in the kitchen! And you can use it as an opportunity to teach about measurements, and how to be safe in the kitchen.  My daughter's favourite recipe is Brownies 🙂
7. Shopkeeper
If you don't have pretend money, it's pretty simple to make your own, by cutting up a piece of paper and writing down the amounts of the paper money on rectangles and coins on circles.  Or you can use real money and use it as an opportunity to get your kids familiar with the different notes and coins. Then set up a shopfront and sell whatever:  Toys, books, clothes.
8. Indoor camping
Who hasn't built a fort out of the drying rack or the sofa? Or thrown some pillows on the floor and called it a tent.
9. Mums and Dads
I think my daughter's favourite game is Mums and Dads.  She plays the mum and uses her dolls as her kids.  Some days, I get to be a baby, other days a teenager…
10. Hospital ( Doctors and nurses )
A new take on the traditional Doctor game where the kids pretend to be a Doctor or a Nurse and apply bandages to sprained ankles, broken arms, you name it.
11. School teacher
Another option is to play School, where one person is the teacher and everyone else are students.  It's a good way to get insight into what your kids think about school and what happens at school.
12. Coloring Books
Good old fashioned coloring in. One of my daughters favourite activities and it's such a calming and quite activity.
If you are looking for some new coloring books, here are some of my daughters favourites.
Journey to the ice castle Who doesn't like Frozen?
Disney Pixar adventure coloring comes with stickers and has over 200 pages.
My younger daughter likes the My big fist book of coloring book
13. Drawing
Name something and the kids must draw it, or just let them draw whatever they want.
14. Paper Airplanes
Another one of my daughter's current obsessions is paper airplanes.  So grab a sheet of paper, get folding and have a competition to see whose plane flews the farthest!!  You can also decorate the airplanes.
[thrive_leads id='93']
15. Dress Up
Let your imagination run wild with this one.  Find some clothes, blankets, whatever to become superheroes, princes/ princesses, Egyptian god/ goddess, etc.
16. Puppet Show
Make some puppets out of old clothes or socks and host a puppet show.
17. Puzzles
If you don't have any puzzles, you can always take a page from an old magazine and cut the it into different shapes and sizes.  Then get the kids to put it together again. If you don't have any magazines, try some old artwork.
18. Toy sorting
Make a game out of sorting the toys into different piles: by size, by colour, by type of toy.
19. Play dough
It is surprisingly easy to make your own play dough.  I found the simplest recipe on the back of the food colouring box.
20. Popsicles / Fruit Smoothies
Grab your blender, some fruit, and water.  Blend it up, pour it into popsicle makers or paper bathroom cups and put them in the freezer.   A few hours later, you have a healthy treat!
21. Build a city
Get some empty cereal boxes or other empty cardboard boxes and build your own city.  Use different size boxes to create the skyscrapers.
22. Build a tower
Look around the house and find things that are not breakable, but that are stackable and see how high you can build a tower.
23. Train rides
Ok, so I don't mean a real train ride, but, line up some chairs and pretend to be on a train ride with the person on the first chair acting as the conductor of the train.
24. Paint
For a different twist, get out some shaving cream and add some food colouring to create some paint.
25. Hair Salon
I put a lot of faith into my daughter, but I do let her pretend to be a hairdresser and brush my hair and do an "Up Do".  Sometimes, I end up with a birds' nest, but I have occasionally came out without any knots in my hair.
26. Board Games
Pull out the traditional board games, Guess Who, Chutes and Ladders, Monopoly, Twister, Chess…
27 LEGO (building blocks)
Either build to the instructions or let your imagination run wild and build something new.
28. I Spy
Who says you can only play I Spy when you are on a road trip.  Your house is full of different colours, shapes to play a game of I Spy.
29. Number Fun
A spin off from I Spy but based on numbers.   I Spy 5 blue things and you need to find 5 things that are blue and count them out.
30. Write a book
Staple a few blank sheets of paper together, and start drawing and writing on all the pages.
31. Dance Party
Turn up the music and be silly!
32. Picnic
Pull out the picnic blanket and have a good old fashioned picnic on the floor.
33. Tea Party
It's up to you if you want to serve real food at your tea party or just pretend.
34. Fashion Show
Have the kids put on a fashion show using their clothes.  It's the perfect chance to find which clothes they have outgrown.
Conclusion
There you have it, my free Rainy Day Activities for Kids. Most of these activities, the kids can do on their own. But it is also a great opportunity to spend some quality time with the kids.
Don't forget to store some of this activities in a storage box so the kids can help themselves.
[thrive_leads id='93']